Distance
learning
A new direction for parrot conservation
CEO of the Lincolnshire Wildlife Park, Steve Nichols, explains his vision for the future of captive psittacines in the UK
When I arrive at the Lincolnshire Wildlife Park to meet its CEO Steve Nichols, his son Liam offers to take me on a tour first and show me the tigers. "My old man's in the cafeteria flipping burgers. We're short staffed." It's that kind of place – an endearing mixture between a serious, ambitious conservation project and down to earth family enterprise.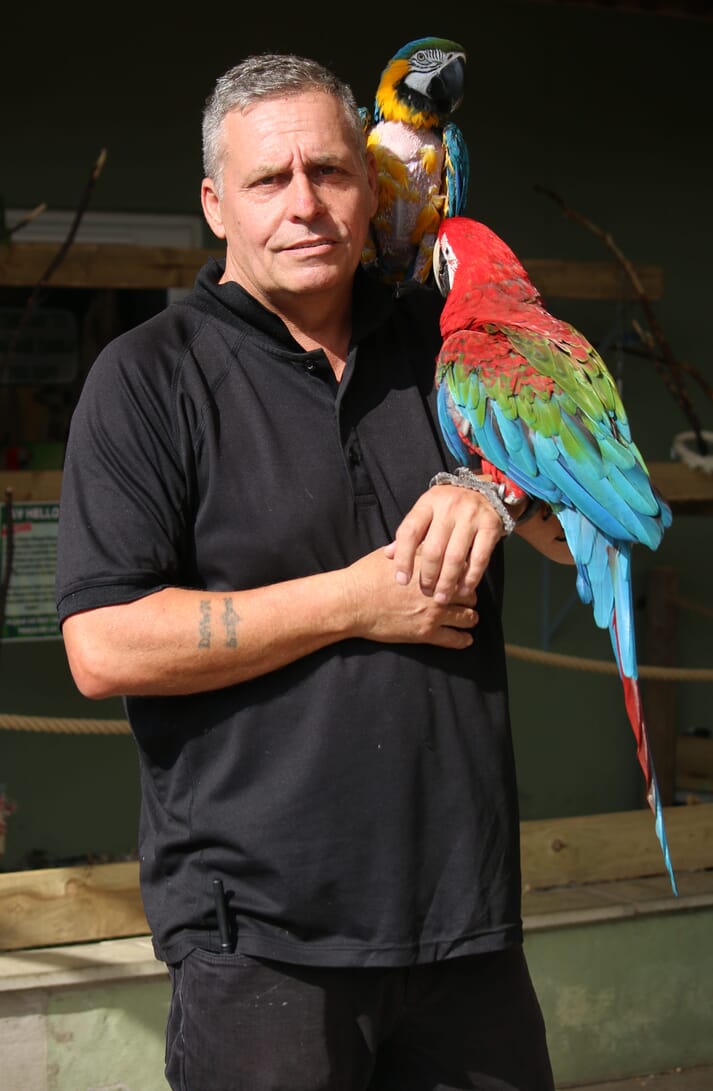 Eventually Steve Nichols himself emerges, a talkative Yorkshireman with tattoos and infectious enthusiasm. He worked in construction for many years before a chance adoption of a friend's umbrella cockatoo led him to develop an all-consuming passion for these intelligent, complicated birds and their experiences in captivity. He would take his bird to schools around the country, giving talks on psittacines and explaining why they weren't suitable as pets. He also started to get to know the parrot world. "The breeders were petrified of me," he chuckles. "They either thought I was a thief or a tax man undercover."
These days his unorthodox style is more likely to open doors, backed up as he is by an enormous wealth of knowledge and experience. And this comes with a serious respect for the specialist veterinarians who treat his birds (over 1,000 of them) and other animals. "I never walked into a vet's saying, 'I think this parrot's got this'," he says. "I was just very good at telling them what all the symptoms were, which gave us plenty of time to talk lots about parrots afterwards."

Two vets regularly support the wildlife park's population – Andrew Cook of the James Street Veterinary Centre in Louth, who specialises in parrots, and Ian Bates of the Fenwold Veterinary Group, who mostly sees to the tigers – though the park also hosts reindeer, emus, meerkats, lemurs and a partially blind puma called Nigel. You get the impression that Steve would adopt anything if he could – his original Bengal tigers were circus rescues of questionable heritage that mainstream zoos would have rejected. He seems to be forging his own path between the big players and inexpert backyard collections – and is often critical of both.

The park's next big project is a new medical suite, set to open by Christmas and combining a rehoming centre with new capabilities in disease treatment and research. The stringent parrot admissions process is currently limited by space: every bird has a medical assessment and faecal diagnostics, and is quarantined for 24 hours before being weighed, microchipped and photographed and given a unique ID and an assigned keeper. Quarantine then continues in stages, as hand-reared parrots may never have seen another of their species – "some of these parrots, like cockatoos, don't recognise they are crested, so when they see another one, it frightens them to death. And sometimes the best form of defence is attack, so they try and attack a streetwise old cockatoo that would beat it up."
Changing the diet can be an issue. "These animals are all ex-pets and a lot of them are very old and have been in unusual situations. Just last night, an African grey came in very late – and she looks perfect – but all she's ever eaten for 14 years is black sunflower seeds, minute ones, and millet. It's probably like me just having Mars bars and champagne. They're very hardy creatures, though the chances are her immune system won't be the best in the world."

Conditions brought on by boredom and stress are also very common, with feather-plucking a particular issue that is still only partially understood. "We noticed many years ago that many hens just plucked a few abdominal feathers out and we thought they were regulating the egg temperature because they wanted to breed. When people saw that, they would start changing things, so the parrot's thinking 'this is quite good', so it keeps plucking feathers because it gets attention for doing a negative behaviour." The act also releases endorphins, which can develop the behaviour to astonishing degrees.

The new centre features a reception area with information and a welcome desk for worried parrot parents; a hatchery; two veterinary treatment rooms; one veterinary ward; four quarantine rooms; and a kitchen for preparing the special food mixes used in the park, all heated and with negative air pressure to avoid disease spread.

The reception area is of particular importance to Steve – from taking in around 10 birds a year when he first started, the centre now accepts between 100 and 120 a year, and isn't equipped to process them during the colder months when disease and exposure risks are much higher; he has found himself distracted by the growing responsibilities of the park but distressed at the loss of personal touch.

He isn't exaggerating when he says: "it's a big investment, but it's probably the most important thing for parrots that this country's ever done." Steve's passion and ambition are clear, as is his willingness to build from the ground up to support ideas. "We're working with a number of vets and hopefully we're enticing a couple of big retired avian vets to get involved, who would say 'in a dream world, I'd like to do this' and we'd say, 'Well we can do that. Let's do it.'

"The idea of the [health centre] is to give us more facilities for vets to get involved in exotic birds because at the moment, if I remember rightly, out of the six or seven years of veterinary study, I think there's about five or six weeks on ornithology and about two days on exotics, so unless you're actually interested in parrots, you're not going to get any kind of experience.

"We want to provide training here… we are official partners of Lincoln University and we want to provide facilities for anyone who wants hands-on experience. All the vets have the theory but we can help out with the practical side. We don't charge any of these vets. They come from all over Europe [and are] taught how to hold it, feed it, where to inject it, microchip it. Vets usually just have a general idea of everything, unless they have a specific interest."

Steve is going to enormous strategic efforts to support the conservation and welfare of psittacines, with an active investment of £1.2 million over the next two years for a captive parrot conservation programme. "I personally believe that for every species, [we need to have] a core blood group, so that nobody increases the value anywhere," says Steve, "[and] if we need to learn about them, there's somewhere we can go and see them." This is his solution to black market trade in fashionable parrot breeds and unscrupulous breeder practices.

Steve's forward research thinking has got him involved with projects such as a collaboration with Defra on Quaker parakeets, elaborate nest-builders whose growing feral population in London is a serious potential threat to man-made structures. Steve and his team are working to design an entrapment nest: "we let them build and then put a little gadget in and see if they'll carry on building round it, which we can then use to remote control the entrance."

Looking ever further into the future, Steve's next project is creating a state-of-the-art classroom at the park. Due to open at the end of 2019, it is part of an initiative he calls "Wild for Learning" that will allow schools to visit for free. In typical fashion, the project grew out of a family anecdote, when his granddaughter's wildlife park school trip was cancelled because so many of the children in her class couldn't afford it. "I said, 'find the others and I'll pay for them so you can all still go'. But it made me think, 'I wonder how many should be coming here.'"

He explains: "If we have 20,000 kids here, and 1,000 of them might grow up and say 'I don't want a parrot because I remember going here' and 100 of them might say 'I want to go into the research side of things' – that's going to be worth it then. And the others will all just turn round and say 'he was a nutter but we had a good day out'. And it is lovely to be able to do something like that."