Distance
learning
All Creatures Great and Small
The popular '70s and '80s show is being made into a new television series by Channel 5 and is due to air later in 2020
A new television series of All Creatures Great and Small is being made by Channel 5 based on the best-selling books by James Herriot, the pen name of Alf Wight. I decided to take a step back in time and have a chat with Jim Wight, Alf's son, who followed in his dad's footsteps and became a vet himself (Figure 1). He worked alongside his father and Donald Sinclair, his father's partner, and one whom he would make famous as the hugely entertaining vet Siegfried Farnon in the books.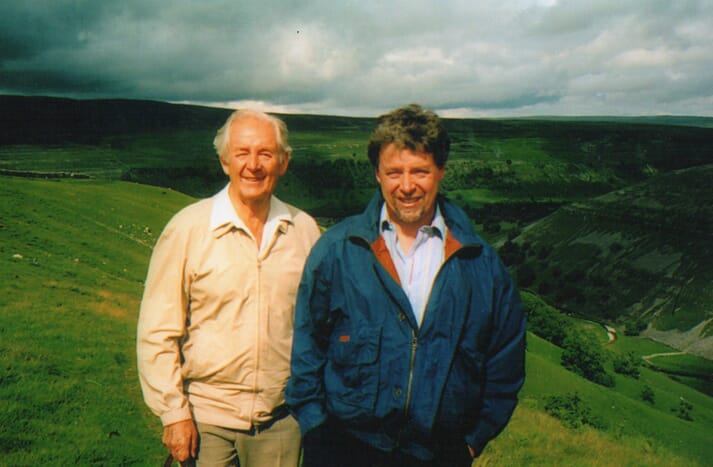 Jim started by saying "The new series is being produced and directed by Playground and I feel sure they will make an excellent job of the new series. It is important to stress that this is not just a remake; the series does not rigidly follow the original James Herriot narrative and could be accurately described as 'being inspired by the works of James Herriot'. The characters are still there and the stories appear, but much depicted on the screen will be new to readers of the James Herriot books. I have seen a private showing of the first episode; it is most enjoyable, brilliantly acted and it does capture the ethos and style of the country vet of James Herriot's day. I am pleased to say that they have Andy Barrett as veterinary advisor. Andy was an assistant in our practice in the '80s and '90s, and one whom my father knew very well."
Jim was working in the practice in Thirsk and saw first-hand how his father combined his love of being a rural vet alongside the writing of his books. "My father had always wanted to write a book, from his very first days of leaving school in Glasgow, but it was not until the early 1960s that he began writing in earnest. He experienced many rejections before his book was finally accepted in 1969. I remember him opening the letter in which was the advance on publication, a cheque to the value of £200, a lot of money to him in those days. 'Look at this Jim!' he exclaimed, 'This must be the pinnacle of my achievements!' Many people have asked me how he managed to find the time to write a book when he was working full time. The fact is that the first book, not a long book, took him many years to write, as he had so many rejections, so time was not really the limiting factor. I also firmly believe that those rejections turned him into a better writer; every time he was rejected he rewrote his book and each rewrite was better than the last.
"His books quickly became popular and he soon became one of the world's most famous vets. Some 24 years after his death his name is still synonymous with the profession. To date his books have been translated into over 30 different languages worldwide.
"It was not long before his books began to be transposed onto the big screen, but it was the television series that propelled the name of James Herriot into millions of households. I am pleased that there will be a new series; although different in many ways from the first, it will introduce the name of James Herriot to a whole new generation."
Jim retired in 2001 at the age of 58. It was a little premature but following his father's death, James Herriot's agent persuaded him to write the authorised biography of his dad.
"Writing this book – The Real James Herriot – was a huge challenge to me. I had no help and had to learn fast, with the result that practice work went on to the back burner. Having completed the book, I wondered what I was going to do with my time. Now, 20 years later, I fail to understand how I ever had time to go to work at all! I remember my father's words many years ago, when he suggested that 'you cannot spend all your time sitting in the lay-by of retirement; you have to keep at least in touch on the motorway of life. You cannot just dig the garden and walk the dog!' I do dig the garden and walk miles with the dog, but I also spend time public speaking and giving the proceeds to charity, so my life is very full.
"With my sister Rosie, we still help out in the World of James Herriot Museum in Thirsk, usually by showing visitors around and giving the inside stories behind the success of James Herriot. This year over 35,000 people from all over the world have visited the centre. It is a great success story, especially as a few years ago it was threatened with closure, until a local entrepreneur by the name of Ian Ashton took over and he transformed the finances of the centre."
Practice life then
"Years ago, veterinary practice was a vocation. I never got the impression that my father regarded the making of money as a priority; the welfare of the animal always came first. Over the years he built up a trust and working relationship with his clients (Figure 2), in fact with so many smaller farms in the district, the vet became almost 'one of the family'. I remember going to farms with him from a very early age; it was a time when we were doing up to 20 farm visits per day (Figure 3). It was such an enjoyable life that I knew from a tender age that I wanted to enter the veterinary profession.
FIGURE (2) Working and getting the respect from the farmers plays an important role in the veterinary profession

FIGURE (3) Sometimes 20 calls a day were normal with long hours well into the night
"He did have great trouble getting some of the clients to pay their bills; with some he would have to wait several months before seeing any money, while there were others who never settled their accounts in full. Most of his farm clients were good payers, but that hard core of poor payers – in his own words 'those who make a good living out of simply not paying anyone' – certainly took a toll on his finances.
"I remember performing a caesarean section on a little Jack Russell bitch late one evening, and producing three good live pups. The owner, a young guy, was delighted. 'Thanks a lot, Jim! I'll be in soon to pay you!' And off he went. I am still waiting to see the colour of his money. I have wondered what would happen if that was tried with a full trolley of goods leaving a supermarket store!"
Practice life now
"We all know how much veterinary practice has changed since the days of James Herriot. Today, veterinary practice is more about big business than it was in my father's day. This is not necessarily a bad thing, but I do believe that, in general, the profession is not held in such high esteem as it was years ago. This probably due partly to the high fees that are being charged, but I can see why this is so. The vets of today have to endure very different pressures than those of James Herriot's day; a far better informed and more demanding clientele, piles of paperwork, never-ending bureaucracy and threats of litigation lurking around every corner. These are very different to the more physical pressures that my father endured, energy-sapping work like dehorning, foot trimming, exhausting calving cases in the days prior to caesarean section, as well as huge numbers of night calls to attend to big, rough, uncooperative animals with little respect for the human frame! So, I can see why vets need to charge realistic fees, with the many challenges that they have, including very high overheads.
"One thing I find positive about the future of the profession is that there are some fine veterinary surgeons who are a credit to the profession. Peter Wright and Julian Norton in The Yorkshire Vet carry on that timeless quality that made Herriot so popular – care, compassion and thoroughness on their approach to their cases, while Noel Fitzpatrick – The Supervet – through his clinical and surgical excellence, illustrates the great strides forward that the profession has made in the treatment of animals."
Jim feels sure that his father would be delighted that a new series of All Creatures Great and Small is being made; it will show the younger generation just what it was like in the "good old days" – 50 and more years ago. We look back nostalgically on those days but often they were not quite so good at the time; crawling out of bed in the early hours of a winter morning to strip off to the waist and attend to a rough calving? It is nice to look back on but maybe it was not so funny at the time.
Now aged 76, the cold damp days and nights have had their effect – an arthritic knee, an aching back and several other minor physical ailments, but as Jim says "it was for the welfare of the animal and in my view, it was worth it all. I owe my dad a lot for encouraging me to follow in his footsteps."