An innovative tracker for equines
How could the use of a horse activity tracker benefit the animal, owner and vet?
Trackener Life is a 24/7 horse monitoring solution designed to help advance equine health and welfare. Worn by the horse around the clock, Trackener provides insights about activity, movement, sleep, anxiety, heart rate and exercise sessions on an app. By learning from each horse, Trackener helps detect and prevent health problems.

What problems does it solve?

Every year, too many horses suffer from colic and other preventative health issues. Although horse owners and carers provide the best care that they can to keep their horses in top condition, daily management relies principally on visual assessment and gut feeling, which is limited. Thanks to the data analysis provided by Trackener Life, we are offering a solution to help horse owners and carers detect subtle changes in behaviour and activity so that they can act as early as possible.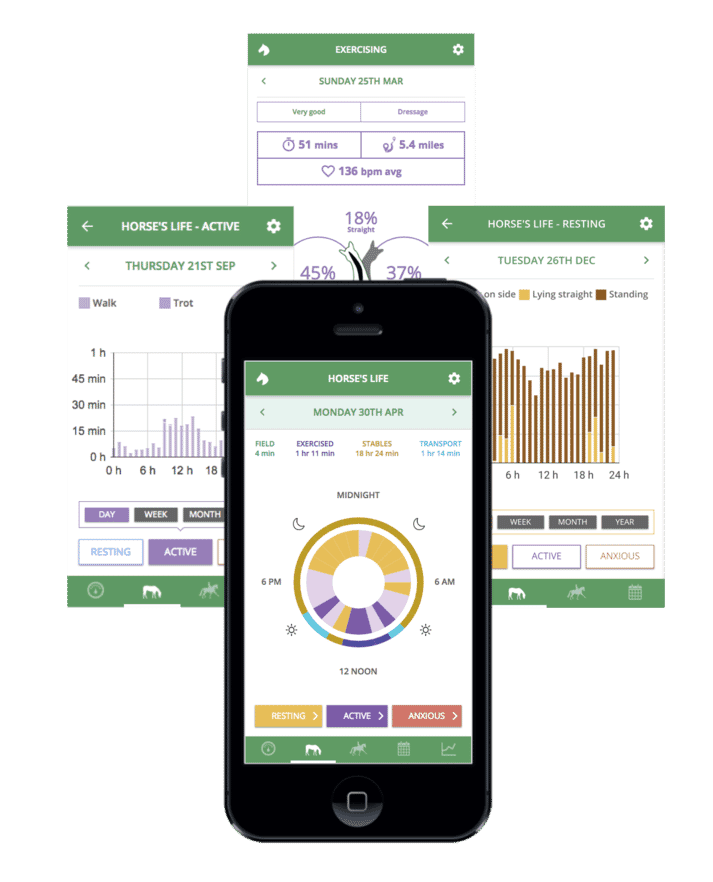 How does it work?

The Trackener device analyses the horse's activity, location, movement, behaviour and heart rate 24/7. It can be placed either within our ergonomically designed horse bib, comfortable on the horse in the stable, in the field and during transport, or on a girth sleeve for when the horse is being exercised. The kit consists of a small phone-sized device, which fits into either the bib or sleeve, and an app accessible from any phone, computer or tablet. Users have access to all the information in an easy and user-friendly format from anywhere in the world.

Who will it be most useful to?

It is suitable for horse owners, trainers, breeders, riders, vets and researchers.
Why should a surgery invest in it?
Horses can be monitored 24/7 every minute of the day
Saves time watching CCTV
Gives evidence behind anecdotal reports from owners
Helps vets provide a better service and aftercare when inpatients return home still under the eye of a vet
Reduces risk of injury to the vet as the horse's state can be pre-evaluated
Allows the vet to monitor the progress of a patient's rehab and adapt the plan accordingly
Has it been proven in practice?

Yes, it is currently used by the University of Liverpool, Leahurst Equine Hospital and the RVC.
How do you use it?

Once the batteries are charged, simply place the device and bib on the horse, follow the simple app set-up and review the horse's data.

What sets this product apart from the competition?
No other product monitors the horse both during exercise and at rest. Performance is largely affected by health but exercise sessions account for less than 5 percent of the horse's time. 24/7 monitoring is crucial to maintain a healthy and fit horse for purpose.
Data on the app can be accessed anywhere in the world; users do not need to be within close proximity of their horse.
The product is designed and supported by research. The parameters we chose to monitor were dictated by research and we have several validation studies using the kit in progress.

What would you say is the best feature of the device?

Everyone knows their horse well but we can't be with our horse 24/7. Trackener provides a broader picture of the horse's health and well-being and presents even the most subtle changes that we are unable to see. In particular, our users love to discover how much each horse actually lies down in sternal versus lateral recumbency.

How much does it cost?

£449.00 plus £9.99 monthly membership for data analysis, customised alerts and technical support. There are alternative pricing plans and rental options available on request.
For more information, visit: trackener.com, email: contact@trackener.com or call: 020 3150 3117