Farm animal wound management
Wound management is a day one skill for farm animal vets and there are many aspects to consider
Wound management is a part of everyday life as a farm vet. This article aims to cover wound management practices and promote reflection on standard operating procedures, as well as provide guidance for new graduates. Wounds will be classified into two main sections: traumatic or elective.

Traumatic wounds
History taking is an essential part of wound management before treating in accordance with Esmarch's principles (Box 1).
It is important to ascertain:
When did this happen?
Where did this happen?
Haemorrhage?
Any other issues? Examine the rest of the animal to ensure an obvious problem has not been missed (eg fracture)
It is important to secure the animal safely (Figure 1) and foot trimming crushes are ideal for wound repairs; the belly band provides support and it is easy to lift a leg to prevent kicking. Sedation can be helpful, but alpha-2 agonists, such as xylazine, may not work well if the animal has high levels of adrenaline circulating. Care must be taken to avoid recumbency in a crush.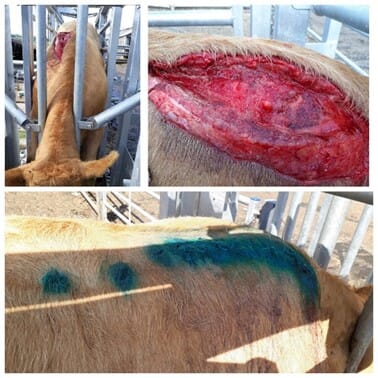 Haemostasis
With severe haemorrhage, temporary ligation using haemostats or flutter valve tubes as a tourniquet can be useful for achieving haemostasis and visibility. For udder cleft lesions, sometimes haemostasis can only be achieved with primary closure of the wound using tension-relieving patterns such as mattress sutures.
Local anaesthetic
Line blocks are most common, but inverted L blocks are useful for wounds on the flank as well as intravenous regional anaesthesia for foot wounds. For teat surgery, a four-point teat block is very effective.
It is important to remember that goats are sensitive to local anaesthetic so it may be necessary to dilute in sterile water to avoid signs of toxicity. Harwood and Mueller (2018) quote a maximum dose of 6mg/kg for lidocaine hydrochloride 2% and report no toxic side effects seen at 15mg/kg for procaine hydrochloride 5% (no maximum dose available for this product).
To clip or not to clip
Clipping is good practice to reduce foreign material that may interfere with wound healing. Animal temperament, poor handling facilities and a need for a fast closure may be the deciding factor.
Debridement
Debridement is very important to aid wound healing. Use of either gauze swabs or a scalpel blade work well, but some cases will require resection of necrotic tissue. The depth of the wound should be assessed and bone fragments removed where possible to aid wound healing (Figure 2).
Contamination
Chlorhexidine and povidone iodine, used at dilute concentrations of 0.05% and 0.1% to 1% respectively, are two commonly used disinfectants (McCaghertyx and Woods, 2018). At higher concentrations, there are risks of cell damage and delayed wound healing (Anderson, 2009; Faria et al., 2009). Chlorhexidine has a higher bactericidal effect than povidone iodine and has some residual activity even after irrigation (Sanchez et al., 1988). Sterile saline is indicated for wound lavage but is often not used due to cost and limited space in farm vet's vehicles to stock multiple bags. Saline forced through a 60ml syringe with an 18-gauge needle will reach the required pressure to dislodge bacteria, but pressure significantly higher than this will force bacteria deeper into the tissue (Fubini and Ducharme, 2017). Warmed fluids will increase the circulation to the area, in turn aiding wound healing. Heavily contaminated wounds will need plenty of irrigation (Figure 3) and if unable to clean thoroughly, wounds should be allowed to heal by secondary intention.
Closure times
The general rule of thumb is that wounds less than 12 hours old can be closed by primary intention: skin edges closed with sutures or staples. Wounds more than 12 hours old should be left open to heal by secondary intention (Figure 4). If in doubt, don't close!
Wounds on teats should only be closed if less than 12 hours old (Figure 5) (Fubini and Ducharme, 2017). However, the prognosis worsens if over four hours old (Roberts and Fishwick, 2010).

FIGURE (2) Bone fragments should be removed where possible to ensure optimal wound healing. Pictured here is a draining tract from bone sequestrum in a goat kid. Three small bone fragments were removed with daily debridement; the wound healed following a prolonged course of amoxycillin clavulanic acid

© Photo credit: Julia Bloom

FIGURE (3) Initial assessment of a contaminated wound which was more than 24 hours old. It was left to heal by secondary intention following thorough irrigation. Facilities were not safe enough to enable wound debridement

© Photo credit: Tom Angel

FIGURE (4) If wounds are more than 12 hours old, they should be left open to heal by secondary intention. Here is a wound healing following treatment for fly strike

FIGURE (5) Closure of teat lacerations has a worsening prognosis if closed more than four hours after injury. Prognosis is very poor if closed over 12 hours after injury
Dead space
Placement of drains helps prevent build-up of fluid if closure of dead space is not possible (Figure 6). Gauze swabs or rectal gloves are handy methods of keeping wounds open to allow for drainage.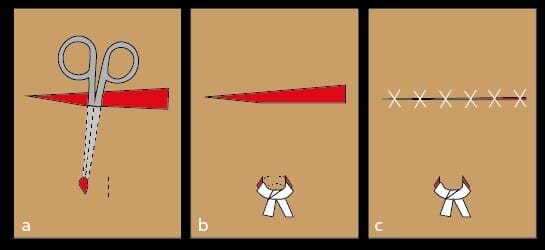 Antibiotics
Topical antibiotics are a common tool at present for wound management. The use of metal-based sprays, such as aluminium, as an alternative is becoming increasingly popular. If there is a risk of certain infections (eg treponemes), then antibiotics are indicated.
Systemic antibiotic usage should be based on the following: level of contamination, level of foreign material in the wound, duration of time since wound occurred and appropriate use of antibiotics.
Generally, long acting preparations of penicillin are convenient and antibiotics such as amoxicillin clavulanic acid are useful for beta-lactam resistance. Long acting preparations of amoxicillin do not reach as high a concentration in the serum as short acting preparations (Delis et al., 2009), so initial use of a short acting followed by a long acting antibiotic may be beneficial. Florfenicol is a useful antibiotic in wound management as it has good penetration of synovial fluid (Jones et al., 2015).
Further treatments
NSAIDs should be given to aid with wound healing and pain management. Fly prevention should be used during the warmer months. Bandages are useful but do require frequent changes to prevent increased risk of infection from soiling and are perhaps underutilised in farm animal wound management.
Elective wounds
Elective wounds are much easier to manage as the animal can be clipped and aseptically prepared prior to incision, wounds are easily closed or deliberately left open to drain (eg calf castrations). It is always important to ensure that your surgical technique is in line with Halsted's principles of surgery (Box 2).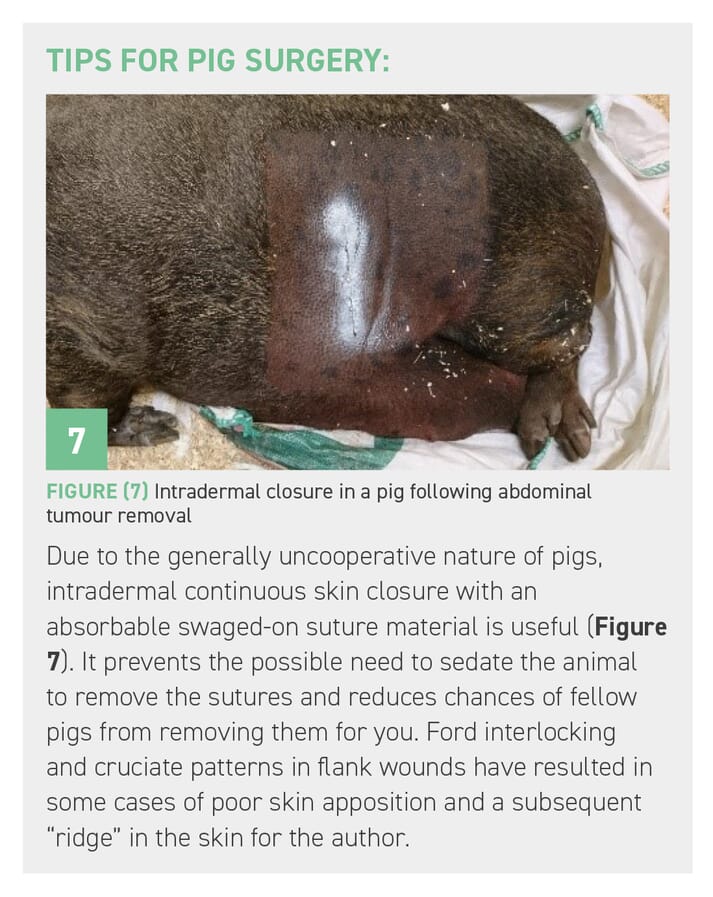 Aseptic technique
Farm vets have a level of aseptic challenge in the farm environment. Drapes and surgical gloves can help minimise levels of contamination. In cases where contamination occurs during surgery (eg foetal fluid during C-sections), lavaging of the abdomen is indicated. Saline lavage of the closed uterus is best practice for removal of blood clots. Where a gauze swab is used instead of saline, there is an increased risk of abdominal adhesion formation (Anderson and Rings, 2009).
Tension relieving
Tension relieving can be done using certain suture patterns (eg mattress). When suturing fragile areas under tension, placing sutures through sections of IV fluid lines can be helpful (Figures 8 and 9).
FIGURE (8) Fluid lines are very helpful for relieving tension in eye cases

© Photo credit: Ben Barber

FIGURE (9) Tension can be an issue, here after surgical removal of a tumour on a cow's back. Plastic tubing plus fenestration of the skin can be used to allow the skin to stretch, reducing tension

© Photo credit: Mark Burnell
Dead space
Subcutaneous closure is crucial to avoid seroma and abscess formation and recommended for all large elective wounds. Anecdotally, both for the author and colleagues, less post-operative swelling at the incision site has occurred since routine subcutaneous closures.
Post-operative problems
Common post-operative problems occur if Halsted's principles of surgery are not followed. Haematomas and haemorrhage, swelling and oedema, and seromas occur when haemostasis, elimination of dead space and tension-free closure are not achieved. These can all increase the risk of wound infection, dehiscence and tissue necrosis.
Wound infection can be a particular challenge, often requiring long courses of antibiotic therapy. For cases with infection present prior to surgery (eg claw amputations; Figure 10) then antibiotic therapy should be started a few days prior to surgery.