Identifying key health challenges
Survey results reveal the prominence of mental health issues and identify areas where changes could be made
Mental health in the veterinary sector has been widely discussed in recent years. The BVA has reported that the suicide rate among vets is nearly four times the national average – double that of other healthcare professions. It is something the industry has taken steps to address – initiatives such as the RCVS' Mind Matters support those working in the veterinary field with their mental well-being. 
As the number of people in society affected by depression grows, should we, as an industry that is more susceptible to experiencing mental health problems, be doing more to address the well-being needs of employees so that the signs of struggle can be recognised and responded to as early as possible?
Many employers will be aware of the need to support the health of their staff, but often they aren't equipped to do this effectively. To get to the root of the concerns and challenges, Veterinary Practice magazine joined forces with one of the UK's leading health care cash plan providers, Sovereign Health Care, to conduct a national health and well-being survey of veterinary professionals and employers. The results make for interesting reading.
Of those surveyed, 85 percent said they currently suffer from work-related stress and anxiety, and in the last 12 months, a quarter of respondents had suffered from depression due to work. The majority of respondents (69 percent) said they needed to seek help from a doctor as a result of their symptoms.
While the reason for stress and anxiety was largely attributed to long hours (50 percent) or heavy and difficult workloads (47 percent), 35 percent said difficult clients were to blame and a quarter of respondents cited poor relationships with bosses or colleagues as a trigger. When asked if employers were doing enough to help to support their mental well-being, many said they didn't believe they were, with 52 percent saying they thought there were no effective stress management or mental health support programmes in their place of work.
How might these issues impact the profession?
Chief Executive of Sovereign Health Care, Russ Piper, said: "While we know those working in the veterinary sector are more prone to stress and mental health-related issues, the results of this survey would indicate that, despite efforts taken to support the sector, many are suggesting they feel let down by their employers. A workforce that feels unsupported or doesn't know where to turn can lead to all kinds of issues with productivity, absence and ultimately the loss of skilled staff. It is vital that employers look at ways to support the health of staff and give them the confidence to communicate their worries and concerns in the future so that they can continue to perform well professionally."
There is still a lot of stigma surrounding mental health, and knowing how to deal with mental health issues can be challenging for both the employer and employee. Speaking about feelings and showing vulnerability is still seen by many as a sign of weakness or something that people simply don't know how to approach with others. When asked how work-related stress or anxiety made them feel, over 70 percent of those surveyed said it made them question their ability to do their job and 43 percent said they felt physically unwell. A notable 41 percent said it made them want to seek new employment (Figure 1).
Perhaps more worryingly, over a third of those surveyed that suffer from work-related stress and anxiety say they ignore how they feel and hope it goes away (36 percent) or hide it from others (35 percent). The vast majority of respondents (93 percent) have had to take up to three days off work because of stress or anxiety in the last 12 months, 25 percent became reclusive and 9 percent had felt suicidal.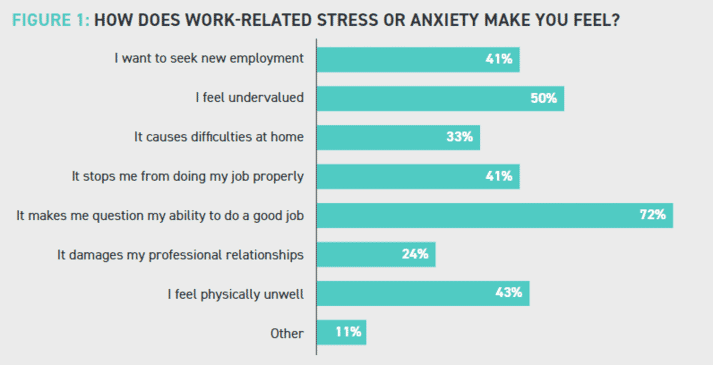 What can be done?
Sixty percent of employers surveyed said they were extremely concerned about stress and mental health problems in the veterinary sector, with 38 percent believing that an employee assistance programme (EAP) is the most important benefit they can offer staff, along with a health benefits package (25 percent). A quarter of employees agree with employers that an EAP is an important staff benefit, 58 percent would like to see a more supportive work culture, 50 percent want employers to open the lines of communication and 48 percent believe flexible working would help.
Russ added: "The problems caused by poor mental health are not immediately solvable, but there are steps that can be taken to help lower stress levels in the workplace. Implementing an EAP can help support the well-being of your workforce, particularly their mental health. An EAP is easy to put in place and provides staff with access to confidential support, assistance and face-to-face counselling to help them deal with a range of life events. 
"Not only does an EAP benefit the individuals that use the service, but it can also benefit employers and managers who may not be trained to deal with the issue at hand and give them somewhere to signpost their team members for professional guidance and support."
The results of this survey will not be shocking to most in the veterinary profession. The issue has been well-publicised and there are initiatives in place to tackle the growing prominence of mental health problems in the sector. Nevertheless, the statistics bring home the importance of caring for the mental well-being of employees and colleagues. 
The issues become even more vital when considered alongside other pressures on the profession. In a sector that is already amidst an employment crisis, 72 percent of participants question their ability to do their job and 41 percent wish to seek new employment because of work-related stress or anxiety.
Workplaces can do more to help quash these issues. The results emphasise the need for support in the workplace; over half of respondents thought there were no effective stress management or mental health support programmes in their place of work. This can change. Many employers and employees believe that putting an EAP and health benefits package in place would be beneficial. Responses from employees also imply that a more supportive work culture is needed, with more open communication and flexible working where possible.
The results are from a survey of 60 veterinary sector employers and employees in the UK conducted for Sovereign Health Care in January 2018 by Survey Monkey. For more details about how Sovereign Health Care can help support the health and well-being of your workforce, visit sovereignhealthcare.co.uk/business