Distance
learning
Investigating haematuria
Urinalysis and routine blood tests play a crucial role in the investigation of haematuria and very frequently have to be followed up with diagnostic imaging
Haematuria is the result of blood loss from either the urinary or the reproductive tract and is often suspected when the urine has a pink-tinged, red or dark-red to brown colour.
Gross haematuria is visible to the naked eye and this means that there are usually over 2,500 red blood cells (RBCs)/μl of urine or around 150 RBCs per high power field (hpf) on microscopic examination. Occult or microscopic haematuria is present when red blood cells are confirmed on microscopic examination of the sediment despite the urine not looking discoloured.
The blood/haemoglobin pad on urine dipsticks detects RBCs, haemoglobin and myoglobin. Occasionally, drugs and chemicals, such as bleach or hydrogen peroxide, may lead to false positive results with the urine dipstick. It is important to differentiate haematuria from other causes of urine discoloration such as haemoglobinuria or myoglobinuria (Figure 1). In cases of haematuria, if the urine is centrifuged the RBCs will form a pellet at the bottom of the tube and the supernatant will be clear. In cases of haemoglobinuria (Figure 2) the urine supernatant will remain red or pink tinged and the plasma/serum of a spun blood sample should be examined for haemoglobinaemia (pink discoloration). Myoglobinuria is the result of marked muscle trauma or severe ischaemia (eg feline arterial thromboembolism) and causes a browny-red discoloration of the urine. However, in these cases the plasma is not grossly discoloured. Assessment of serum levels of creatine kinase (CK) might also be of help and would be expected to be markedly elevated in patients with myoglobinuria.
FIGURE (1) How to differentiate haematuria from haemoglobinuria andmyoglobinuria

FIGURE (2) Extremely dark urine (port-wine coloured) associated with severe haemoglobinuria (left) from a patient that presented for investigation of lethargy and marked urine discoloration that was initially suspected by the owner to be blood. The sample on the right side is from a normal healthy patient and is depicted for comparison only
Investigation of haematuria should always start with a thorough history and physical examination. When history taking it is important, in addition to the standard questions, to ask questions specifically directed at the urinary tract/reproductive tract which include:
Presence of bleeding/haemorrhagic discharge independent of micturition (more commonly associated with problems of the reproductive tract, including prostate, and distal urethra)
Presence of change in micturition (eg dysuria, pollakiuria or inappropriate urination)
Behaviour and environmental changes (this is especially important in cases of feline urinary tract disease)
Presence of polyuria/polydipsia
Timing of last season in entire females
Presence of vulvar or preputial discharge
Patient licking penis or vulva more than normal
A detailed physical examination should be performed with special emphasis on trying to identify evidence of petechiation, ecchymoses or haematomas, which might suggest a systemic bleeding tendency. Additionally, a rectal examination should be performed to assess the prostate in males (regardless of neuter status) and to assess the urethra and the iliac lymph nodes in both sexes. The prepuce should be carefully examined and retracted to assess the penis. The vulva should also be evaluated using a combination of visual assessment and palpation with a gloved finger.

The most frequent approach when investigating haematuria is to combine the possible differential diagnoses (Box 1) – alongside the potential anatomical location of lesion – with the knowledge of the most common causes of haematuria. When signs of lower urinary tract disease are present (eg pollakiuria or dysuria) alongside haematuria it is more likely that the source of the bleeding is located in the lower urinary tract rather than the upper urinary tract.
In the investigation of haematuria, it is logical to perform a minimum database, which includes haematology with smear, biochemistry with electrolytes and complete urinalysis with sediment examination (Box 2). Haematology will identify the potential presence and severity of thrombocytopenia and, if the haematuria is marked, assess the presence/severity of anaemia and appropriateness of regeneration. Inflammatory leukograms might indicate infection or inflammation. Biochemistry can help direct further investigations and evaluate the presence of concurrent disease that might need addressing, particularly assessing urea, creatinine and SDMA in case of concurrent upper urinary tract involvement. Microscopic examination of the urine sediment is useful to help identify the presence of RBCs in the sediment, confirming therefore the presence of true haematuria. In the sediment, it also important to look for evidence of inflammation (presence of white blood cells – WBCs), crystals, casts, bacteria and epithelial cells, which can help narrow down the differential diagnoses. More in-depth evaluation of epithelial cell morphology can be performed with urine cytology.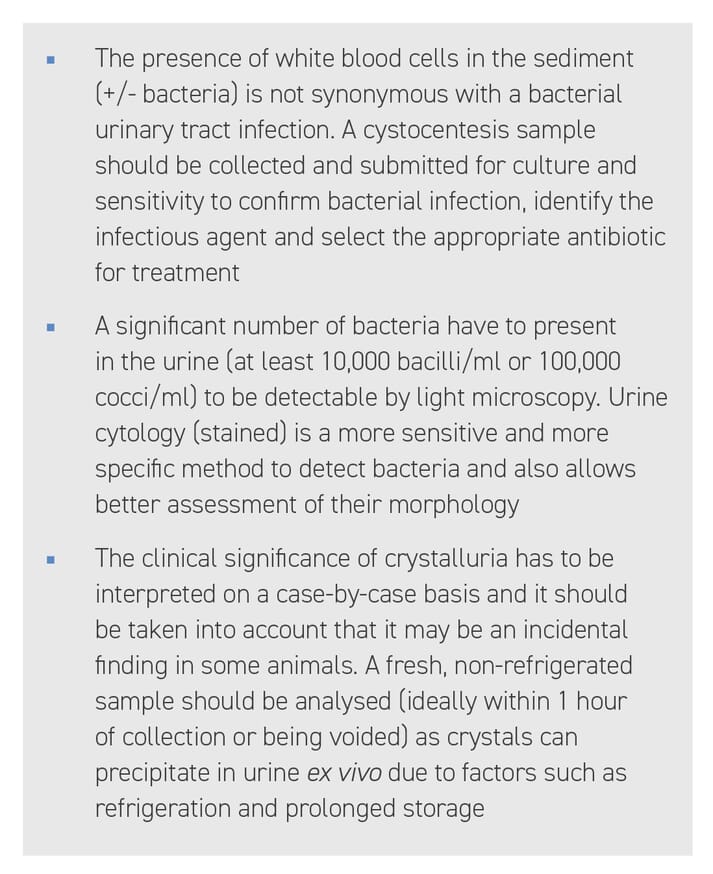 If there is suspicion of a bacterial urinary tract infection upon examination of the urinary sediment, it is worthwhile keeping in mind that gross haematuria is not a frequent prominent feature and that, if a bacterial infection is present, it could be a secondary problem rather than the inciting cause. Provided there are no contraindications, such as coagulopathy, a cystocentesis sample should be collected for culture and sensitivity and, ideally, this should be coupled with imaging to look for a primary cause of the haematuria.
In some cases, it may be of help to compare the results of urinalysis of a voided sample with those of a sample obtained via cystocentesis. If haematuria is only present in the voided sample, bleeding from the genital tract (including prostate) and distal urethra would be most likely.
Iatrogenic haematuria (usually microscopic) associated with cystocentesis is a common finding even when the clinician does not perceive it as having occurred macroscopically (eg seeing a trickle of blood in either the hub of the needle or when the urine is being aspirated into the syringe). A period of 24 hours should be allowed before collecting another sample via free catch or another cystocentesis to confirm that haematuria was likely iatrogenic.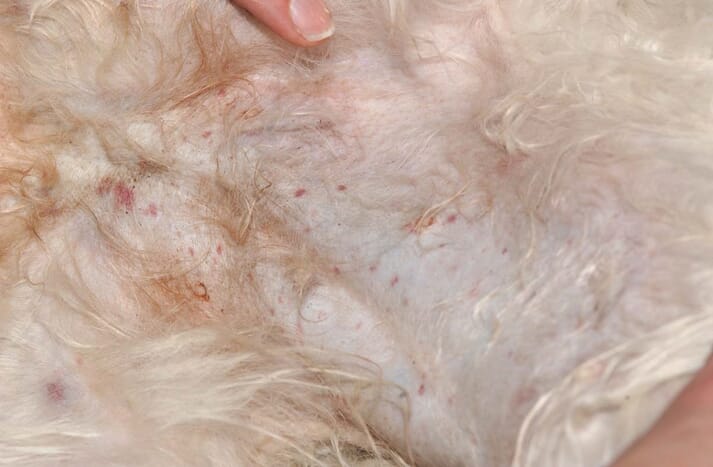 The most common systemic cause of bleeding from the urinary tract is severe thrombocytopenia (Figure 3). Disturbances of secondary haemostasis (prolonged PT and/or APTT) are an uncommon cause of mucosal bleeding such as haematuria, especially if this is the only clinical feature. Other problems such as platelet dysfunction are rare and would not be expected to commonly lead to haematuria.
Imaging is frequently used in the investigation of haematuria and, if there are concurrent signs of lower urinary tract disease, it is often performed early on in the investigative process.
Plain radiography can help identify radiodense uroliths and highlight large masses, but is frequently not a very sensitive tool if used alone when investigating haematuria. The addition of contrast studies (positive and/or negative) to standard radiography can help increase the likelihood of finding the underlying cause of haematuria; however, ultrasound is widely available and has, in most instances, replaced it. Nevertheless, experience and adequate equipment is needed to allow reliable interpretation of the results with either technique.
Ultrasonographic evaluation (Figure 4) of the intra-abdominal and intra-pelvic portion of the reproductive and urinary tract can be performed routinely, but assessment of the most distal part of the urethra is not possible. If the underlying problem is not identified with ultrasound alone the addition of contrast radiography, CT scan or alternatively cystoscopy should be considered.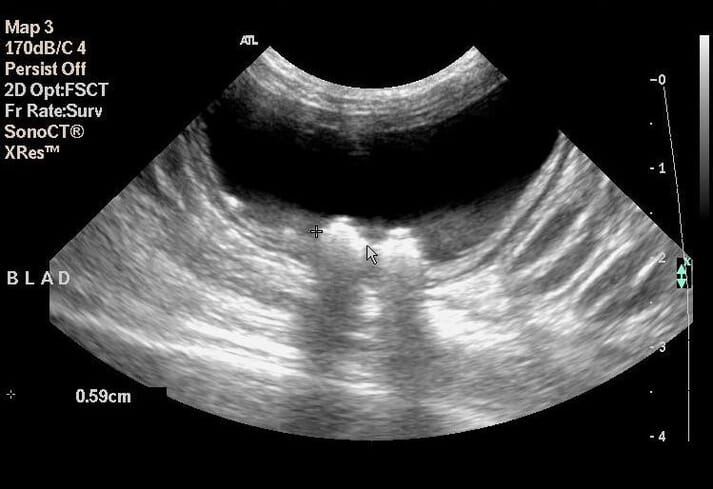 Computed tomography is more widely available in some primary care practices and can be used in the investigation of haematuria, often after ultrasonography.
In most cases, imaging allows identification of lesions, which subsequently significantly narrows down the differential diagnoses based on its anatomical location. It becomes then easier to create a plan of diagnostic tests, possible therapeutic options and potential outcomes. However, at times, no lesions are identified on imaging regardless of operator experience, and this can also be helpful, as some conditions such as feline idiopathic cystitis are made more likely in this setting.
Bleeding from the prostate can be marked with benign prostatic hyperplasia. If, in an entire male, no other cause can be identified upon investigation, a pragmatic approach would be to consider castration (surgical or chemical) and monitor clinical response in the subsequent four to six weeks.
In summary
When investigating haematuria, it is paramount to start with a detailed history and complete physical examination to identify problems that may help direct the subsequent steps. Urinalysis and routine blood tests play a crucial role in the investigation and very frequently have to be followed up with diagnostic imaging.