London Vet Show returns for 2019
With over 100 lectures to choose from, what should you look out for at the London Vet Show 2019?
London Vet Show is back on the 14 and 15 November 2019 and it's set to be bigger and better than ever. Now in its 11th year, the annual event is designed to provide veterinary professionals with opportunities to grow their knowledge base in different areas, covering all species and a broad array of clinical and business topics.
The London Vet Show is a great place to learn about recent advances in different areas of veterinary medicine, to discover new products and services available on the exhibition floor and to network with colleagues.


With over 100 hours of accredited education from over 200 internationally renowned speakers in seven clinical streams, a business stream, sponsor-led workshops and association rooms, trying to figure out where to go next can seem daunting.
"Planning your time in advance is key to making the most of your time at the London Vet Show," advises Rachel Kilmartin, marketing manager of the show. To make this process easier, the team at Veterinary Practice magazine has taken a look at the programme and has come up with a list of top picks for this year's show.
Focus on wellness
This year, wellness is a major focus of the BVA. The BVA is sponsoring a number of lectures at this year's show, including the BVA careers development lecture stream in gallery suite 23/24 – the theme of which is "vets can develop into better clinicians if they learn to look after themselves as well as their patients". Thursday's talks include tips on best practice for delivering bad news, and what to do when the work/life balance gets tough. On the Friday, Rosie Allister of Vetlife, Sophie Halhead of The Vet and Chloe Hannigan of VetYogi will be delivering a talk entitled "How to look after yourself: mind and body".
Furthering the theme of wellness, the BVA members' area is taking the form of a well-being lounge, in partnership with Simplyhealth. Here, BVA members will be able to enjoy a relaxing atmosphere, with soft lighting, sound-cancelling headphones and comfortable seating. Meditation sessions will be held, and each day the first 500 members will receive a complimentary smoothie, made for them with fresh ingredients at the smoothie bar within the lounge.
Community masterminds
For the first time, in 2019 the London Vet Show is hosting Community Mastermind sessions. These workshops will be an opportunity for veterinary professionals to meet in small groups of around 20 people and discuss pressing topics that are of interest to them. Many online groups have emerged in the last five years, where professionals can get support and advice from peers and discuss topics that are close to their hearts. The hope is that these Community Mastermind sessions will provide veterinary professionals with a space to meet peers face-to-face and have these conversations in person. There will be many community groups featured, including the BVA Young Vet Network, Vet SUSTAIN, Simply Locums, etc. To attend one of these sessions, you must simply register on the London Vet Show's website; places are limited so make sure to secure your space to avoid disappointment.


Nurses in the spotlight
Also new for 2019 is the RVC nursing theatre, bringing you two days of lectures aimed specifically at practising vet nurses. From talks discussing anaesthesia to fluid therapy, the RVC nursing theatre will cover all areas of clinical practice. On the Thursday, Lisa Angell of the RVC will address how to maintain anaesthesia "when a gas just ain't good enough", following the recent isoflurane shortage. On the same day, Eleanor Haskey, Head Emergency and Critical Care Nurse, will be giving a talk in the same theatre about fluid therapy and a comprehensive overview on using tubes, drains and lines to manage a patient's condition.
On Friday 15, as well as more lectures in the RVC nursing theatre, the British Veterinary Nursing Association will be hosting talks. Here, Niamh Clancy of the RVC will discuss the nurse's role in pain assessment in companion animals, and Jane Davidson will discuss how to use your nursing skills in all areas of the clinic. BVA Congress will also have a talk focused on the importance of veterinary nurses on Friday morning, entitled "Vet nurses are not mini-vets! Shaping a distinct future for RVNs".
"This year's focus on veterinary nurses and the invaluable work they do aims to bring practices closer together. We really want to foster relations between all members of the veterinary profession," explains Rachel.
Small animal theatres
This year there are not one, not two, but three RVC clinical theatres, on top of the nursing stream mentioned previously. As well as these, Vets4Pets will be hosting a specialist division theatre, IDEXX are organising an advanced diagnostics stream and IVC will be hosting their popular referral theatre. The British Association of Veterinary Emergency and Critical Care will be hosting talks in gallery suite 12 on Friday 15 November, and there are plenty of sponsored talks as well.
One of the themes of this year's clinical programme is "What's plan B?" and over the course of the two-day show, you will be able to attend 13 lectures across the RVC clinical theatres attempting to answer this question. Kersti Seksel, from the Sydney Animal Behaviour Service, will discuss different approaches to cases of recalcitrant cats with recurrent elimination issues on Thursday in theatre 1. In the same theatre, David Church, deputy principal of the RVC, will be addressing the question for the trilostane-resistant dog with hyperadrenocorticism at 12pm and at 3.40pm, David Twedt of Colorado State University will discuss plan B for acute pancreatitis in the dog. Various other speakers, including Rachel Perry and Edward Hall, will be discussing plan Bs for various situations across the different theatres on both days – so make sure to look out for talks beginning with "What's plan B?"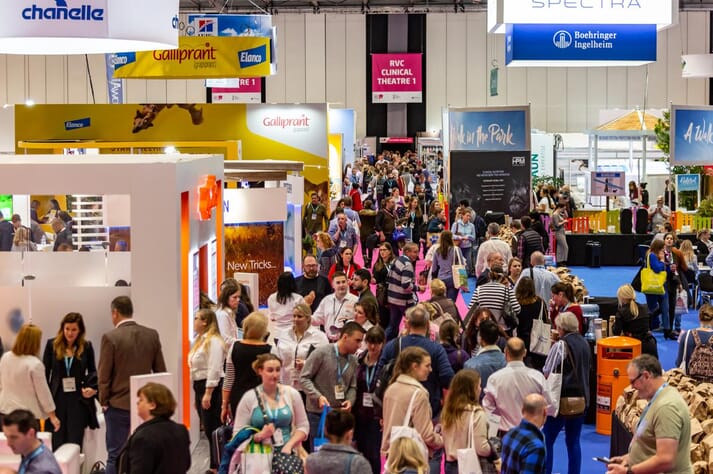 Equine stream
There will be three equine streams this year, packed full of expert speakers ready to share their knowledge with delegates. From an update on laminitis by Nicola Menzies-Gow on Thursday to an update on endemic and exotic infectious diseases (including flu) by Fleur Whitlock on Friday, the BVA/BEVA equine theatre will be home to interesting discussions and debates from the equine world.
The RVC is hosting two equine theatres as well, in which you will find a wide range of talks. On the afternoon of Thursday 14, RVC Equine 1 will be computed tomography (CT) focused – Dagmar Berner will address the value of CT of the cervical spine in horses, Melanie Perrier will discuss when CT is useful in headshaking cases and William Barker will explore the use of CT in equine orthopaedic surgery. On the Thursday morning, RVC Equine 2 will be focusing on equine back pain: Andy Fiske-Jackson will be discussing the causes, diagnosis and treatment of back pain, non-surgical management of back pain will be addressed by Melanie Perrier, and Renate Weller, BEVA past president, will be giving an interactive lecture on whether imaging of the back is worthwhile in equine practice.
Farm animal stream
Farm animal medicine is also on the agenda for the 2019 London Vet Show. With two streams dedicated to large animals, delegates will have plenty to choose from. In the BVA Farm Theatre 1, you can attend an update from APHA on small ruminant notifiable diseases and get practical tips to improve client engagement on day one. You can also find out more about bovine respiratory disease with Tim Potter of Westpoint Farm Vets and about cattle endoparasites with Matthew Colston of Elanco Animal Health. On day two, Benjamin Dustan will be giving tips on how to tackle the goat, and Stephen Smith will demonstrate a practical approach to dealing with common chicken presentations.
BVA Farm Theatre 2 will be dedicated to farm animal veterinary associations. On Thursday, the Sheep Veterinary Society will be providing talks focused on sheep medicine; the afternoon will see two talks entitled "Oh no. I've got to see a goat", with Bryony Kendall detailing medicine and diagnostics, and Nick Perkins covering common treatments and procedures. On Friday, the morning lectures will be hosted by the Pig Veterinary Society and will feature talks on different aspects of pig medicine such as notifiable diseases of pigs by Edward Fullick of APHA, and how to treat cases of individual pigs by Beth Reilly of Synergy Farm Health. Afternoon lectures will be hosted by the British Cattle Veterinary Association – make sure to check out cool case studies with Nicki Hopkins and thoughts on how to engage with farmers to improve calf health with Katie Fitzgerald.
Non-clinical programme
London Vet Show will also be hosting a number of non-clinical talks. Two theatres will be hosts to the majority of these talks – the BVA careers development stream and the business theatre. BVA Congress 2019 will also be occurring at the show and will see various non-clinical lectures as well. On top of the dense lecture programme, you can of course discover what over 400 exhibitors have to offer on the exhibition floor – from CPD providers to surgical equipment, you will be able to find everything you need for your practice and stay up to date with the latest services and tools available to veterinary practitioners in the UK.
BVA Congress
BVA Congress 2019 will take place at the London Vet Show. From sustainability in the veterinary world to the ethical issues with puppy farming, the lectures from BVA Congress are set to be hot topics for discussion. On day one, Temple Grandin, named one of Time magazine's 100 most influential people, will be giving a talk on improving stockmanship and welfare. On day two, Pru Hobson-West will give advice on how vets should respond to the rise of "anti-vaxxers", and a panel chaired by senior vice president Simon Doherty will discuss the future of the EMS system.
As well as the well-being theme previously mentioned, a major theme for Daniella Dos Santos's time as BVA President is #VetDiversity, and this is reflected in the BVA programme at London Vet Show. Laura Haycock will be discussing the value of difference in her talk entitled "Why we should all care about diversity and inclusion in the workplace" on Friday 15. Daniella also highlights that #VetDiversity also encompasses the diversity of career options there are for veterinarians that aren't conventional "practice jobs", such as veterinarians in the army, in research, in academia, working for charities, etc – look out for these talks on day two in the BVA careers development lecture stream.
Networking
London Vet Show is Europe's largest conference-led exhibition with over 5,600 delegates due to attend. "What I'm most excited about at this year's show is the ever growing community feel. Networking happens organically, but we've softly engineered this aspect this year, with various platforms – formal and informal – for vets to get to know their colleagues from around the UK. Look out for various workshops, social events and mentoring opportunities. There will also be some surprise features made available on the day," explains Rachel.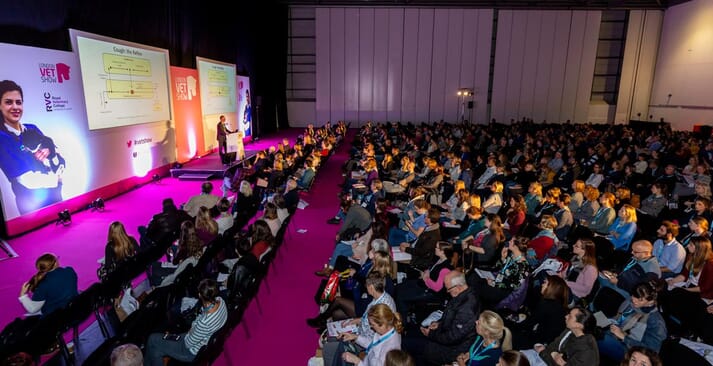 Social calendar
With up to 17 hours of RVC- and BVA-accredited CPD available over the span of 36 hours, you will no doubt need to let your hair down and relax between the two lecture-filled days – the London Vet Show has prepared for this as well.
The BVA are hosting their annual gala dinner at the five-star London Marriott Hotel West India Quay of Canary Wharf on Thursday 14 November. Catch up with your friends with a delicious three-course dinner and enjoy entertainment, a DJ and dancing.
Alternatively, you can join your colleagues for the London Vet Show party in The Pearson Room of Canary Wharf. Food and drink vouchers and entertainment are all included in the ticket, but make sure you book quickly as this event sold out last year and is set to be better than ever before! "The London Vet Show party is infamous," Rachel says. "It's the perfect place for people to come together and let their hair down after a day packed with lectures. Catch up with old friends, meet new people – whether you attend alone or in a group, join us for a fun evening of informal networking. It's a great opportunity for vets to let off some steam in a safe environment, and celebrate the profession. After all, the London Vet Show isn't only for people to come and discuss issues and developments in the veterinary world; it's also important for vets to have positive affirmation of the amazing work they do on a daily basis, and I'm very proud that the London Vet Show provides an annual platform for this."