Placing vets, saving pets
VetFinders, a recruitment business with a strong mission to give back, donates 25 percent of its profits to good causes
A new recruitment company for the veterinary sector has launched with a unique approach, by pledging to donate a minimum of 25 percent of its net profits to animal and children's charities. VetFinders is a social business with a strong mission at its heart to give back.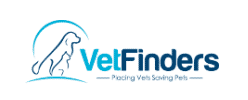 Based in York, VetFinders recruits for permanent and locum positions for veterinary practices throughout the UK, from administration roles through to nursing staff and vets.
Chris Worthington, managing director of VetFinders, said: "We have chosen four specific charities and our support for them does not stop at the point of donation. We will also be working closely with them, funding specific projects and working on their front line."
The chosen charities are:
Darcy's rehabilitation
VetFinders is currently sponsoring a German Shorthaired Pointer through her rehabilitation at Moorview Rescue. The charity has named her Darcy. She was found stray in the South of England, underweight, dirty and with no microchip or collar. She has enlarged teats and it is suspected that she had been used for breeding. Moorview Rescue will nurse Darcy back to health until she is ready to find a loving home. The VetFinders donation was made possible after the company placed candidate Katie at a vet practice in Surrey.
Joanne, of Moorview Rescue, said: "Thank you to everybody at VetFinders, this donation will see Darcy through her whole rehabilitation process. We are so grateful to VetFinders for choosing us as one of their partner charities.
"As a small charity, this support will make a huge difference to us. It is heartening and admirable to see a company making charity work a core element of its business, especially from day one!"
When a candidate is placed by VetFinders, they choose which of the four charities they would like a percentage of their fee to be donated to. The client and placed candidate will then be given regular updates of how their money has benefitted children and animals through photos, videos, emails and website updates.
Other members of the VetFinders team are recruiters Gabrielle Dawson, Martin Wilson and Ian Andrews, accounts and payroll manager Anna Worthington and administrator Suzy Buttress, who is also a fundraiser for Hope Pastures.
"VetFinders' approach is totally unique to the industry and what we do will set us apart. Vetfinders is a business with a purpose, a force for good and a business with a double bottom line," said Chris Worthington. "Our success will be measured not by the profits we make but by what we give back."
For more information please visit the VetFinders website or call the VetFinders team on 01904 563118