As one of only three OVs on the Falkland Islands, for Steve Pointing life on the rugged South Atlantic archipelago isn't always plain sailing. As Jennifer Parker discovers, there's much more to the work of a Falkland Islands OV than sheep…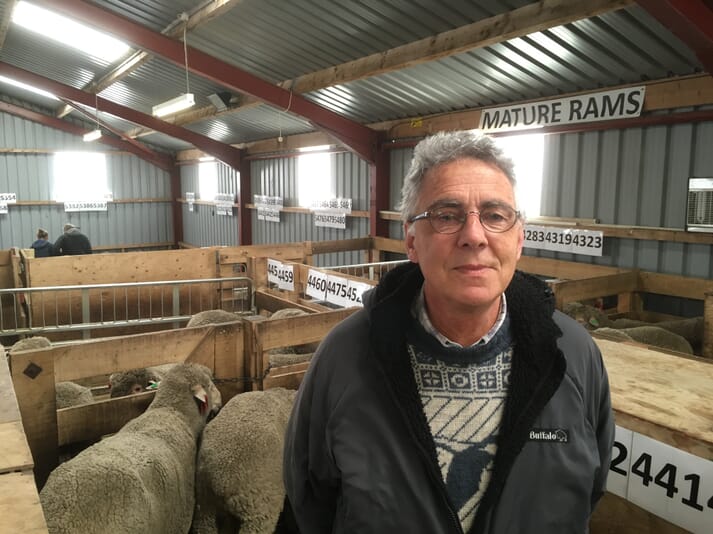 What drove you to the Falkland Islands?
I've had a very peripatetic background. After I qualified, I practised in the UK for three or four years before going back to university to study an MSc in Tropical Animal Health and Production at Edinburgh, with the idea of going to the tropics. You might ask how did I end up in the Falklands? It's definitely not the tropics. I have done quite a lot of work overseas (including in tropical countries) and the Falklands just happens to be the latest place.
Where else in the world have you worked?
I started off in what at the time was the Yemen Arab Republic, North Yemen. I was there for two-and-a-half years in the early 1980s. After that, I spent nearly five years in a South Pacific island called Vanuatu. I think we might still have been there to this day if it hadn't been for the end of the contract. My family and I went to New Zealand thinking we would settle there after finishing in Vanuatu, but, strangely, got more homesick for Britain living in New Zealand than we had living in Vanuatu – maybe because it was so similar. So we came back to the UK; I worked here for a while, then went to the Falkland Islands, which is also quite similar to the UK in many ways, but feels more like it was when I was growing up.
How does the work of an OV on the Falkland Islands differ to that of an OV in the UK?
We do quite a lot of statutory regulatory work as well as private practice-type clinical work. That's one of the things that appealed to me – the variation. I had some experience with state medicine in the UK and in New Zealand. I quite enjoyed some aspects, but I always missed doing the clinical work. This for me is a very good combination of the two.
How many vets are there in the Falklands?
We're just up to our full complement of three full-time vets. That happened towards the beginning of May. In the past, we had two full-time vets and one vet specifically employed to work in the abattoir, which is only seasonal – that would be the OV position. We're now up to three vets. We have a rota and between us do our OV duties in the abattoir two days a week.
There are half a million sheep and 5,000 cattle in the Falkland Islands. How do you cope with the workload?
The sheep are kept very extensively so we don't have a lot to do with them on a day-to-day basis. We are involved with them during the course of the year, but not in such an intensive way as perhaps would be the case in the UK. The distances are greater; the sheep are kept outdoors apart from for shearing or when any work needs to be done on them. A lot of the time the farmers themselves wouldn't necessarily know what's happening with their sheep, so they wouldn't be in a position to contact us about a problem. Much more of our day-to-day work is with cats, dogs and horses.
Is there such a thing as a 'typical day' in the life of a Falkland Islands OV?
No, there isn't. Because there are three of us, we divide our weeks in a one-in-three rota. We try to share the work, so we have one person on clinical duty for a week, doing all the small animal clinics and the surgery; we have one person on abattoir duty for a week (covering the two days amid other tasks and responsibilities) and then one person doing administrative work, catching up on paperwork and personal study – all the things you don't have time for when you're doing the other things.
How do you know how to treat seals and penguins?
We've just picked it up through reading and working with knowledgeable people. Some of the conservationists are very good; they aren't vets, but they've either worked with vets in other places or have just acquired the knowledge themselves. Then there's the internet, which is fantastic for research. We're in contact with one or two vets who work in zoos in the UK; they're only an email or a telephone call away.
Are there any notifiable diseases you have to be particularly aware of?
The biggest problem we've got – though the farmers don't see it as a problem – is Caseous lymphadenitis, which affects quite a lot of older sheep in the Falkland Islands. Historically, the Falkland Islands' sheep were bred for wool, so what you saw on the outside was all that was important. Now, we kill sheep for their meat, and the disease may lead to the condemnation of carcasses. There is a vaccine, but persuading farmers that the cost is worthwhile is very difficult.
What advice would you give to somebody thinking of joining the Falkland Islands veterinary team?
There's more of a tendency in the vet world for specialisation than there used to be. In the Falkland Islands, you have to be much more of a generalist. You've got to be willing to have a go at doing lots of different things and you won't always be able to do those things to the best possible standard. Some people find that very difficult to cope with – if you're going to be frustrated that you can't take the case to the very Nth degree, then the Falkland Islands probably isn't the place for you.