Standing throat surgery
Performing the tie back on the standing patient allows better anatomical recognition and visualisation
The Sussex Equine Hospital situated in Ashington, West Sussex has featured in Veterinary Practice magazine several times. "We try to encourage new vets with experience in specialist fields that offer new surgical inroads for our clients," said Ed Lyall, MRCVS, one of the directors. Currently there are 26 equine vets based at the practice covering East and West Sussex into Kent, Surrey and Hampshire. The ambulatory vets have specific areas to cover, ensuring client continuity. Surgery plays an important part back at the hospital with dedicated surgical areas. Veterinary Practice magazine was there to meet Luis Rubio-Martinez who hails from Spain and is an RCVS, American and European Specialist in Equine Surgery with special interest in standing throat surgery. Luis is also board-certified by the American College of Veterinary Sports Medicine and Rehabilitation (equine).
First – a little about Luis's background. He graduated from the University of Zaragoza in Spain. Following this he travelled a great deal gaining experience in Hannover (Germany), Mexico and Argentina and practised in private practice in Spain before going to the University of Madrid where he completed his PhD. More travels took Luis to the University of Guelph in Canada in 2005 where he trained as an equine surgeon to 2008. Luis then stayed as a faculty member in equine surgery at the University of Guelph. This was followed by faculty positions at the University of Pretoria (South Africa) for three years when among Thoroughbreds, sports horses, endurance and pleasure horses, he had the privilege of working on some more exotic animals such as elephants, antelopes and rhinos. In 2013, Luis moved to the University of Liverpool where he was senior lecturer in equine orthopaedics and surgery until November 2017 when he came to the Sussex Equine Hospital in Ashington.
"It seems a lot of travel, but I felt it was an ideal way to gain experience and see how veterinary medicine was performed in different parts of the world," Luis said.
Luis felt very excited to join a practice that was investing so much into its future and of those who worked there, and that is what appealed to him to come down to Sussex Equine Hospital. The directors likewise wanted a team that showed interest in the future of the practice especially in the development of new equine surgical procedures; so, it was an ideal move for him.
"The bulk of my work is hospital related and I am a member of the surgical team. I go out from time to time, but that is to offer patient aftercare support if required. I am also involved in lameness investigations and advanced imaging including nuclear scintigraphy, MRI and the development of the new standing CT at the hospital."
Luis covers all aspects of equine surgery and has a special interest in upper wind surgery, having treated sports horses and racehorses around the world. One of the procedures is "standing throat surgery" which is a relatively new procedure that we will be discussing in this feature.
Procedures
Over the last few years, surgery of the upper airway in horses has evolved rapidly. The surgery "tie back" has been performed for many years on horses with recurrent laryngeal nerve paralysis. However, it was only in 2015 when the tie back was first reported being performed on the standing horse. At Sussex Equine Hospital they perform tie backs on the standing patient as default, unless in the seldom encountered excitable patients, in which the procedure under general anaesthesia is more suitable. Performing the tie back on the standing patient allows better anatomical recognition and visualisation, which facilitates the completion of the procedure with a more controlled assessment of the degree of arytenoid abduction achieved.
To illustrate this, Luis shared details and pictures of a case that underwent standing tie back by the team at the Sussex Equine Hospital.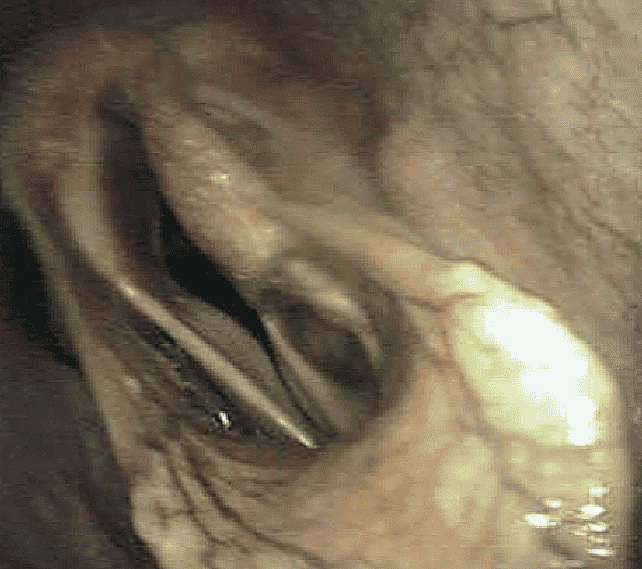 A six-year-old Warmblood gelding was presented to the hospital for loud audible inspiratory noise and marked exercise intolerance and fatigue after just a few furlongs trotting. Exercise endoscopy of his upper airway revealed that the horse suffered from left-sided grade 4 (total paralysis) recurrent laryngeal neuropathy and marked bilateral vocal fold collapse (Figure 1). Ultrasound examination of the larynx showed marked atrophy of the left dorsal and lateral cricoarytenoid muscles but also a dysplastic larynx with the left thyroid blade extending more dorsally than the muscular process of the arytenoid cartilage, which was also misshapen (Figure 2). The treatment of choice for these animals is usually arytenoidectomy (removal of the abnormal left arytenoid cartilage) as these abnormal larynxes are often not suitable for tie back. "However, this time we decided to assess whether the less invasive approach of a tie back would be suitable on this horse," said Luis.
The horse underwent standing throat surgery by Luis and his team at Sussex Equine Hospital, including laser ventriculocordectomy and left-sided tie back (Figure 3). "During the procedure it was noted that the muscular process was quite underdeveloped and was very difficult to reach. However, we managed to place two prosthetic sutures tying the left arytenoid cartilage back to the cricoid cartilage." The surgeons felt very satisfied with the procedure and the horse recovered very well from surgery.
FIGURE (2) Upon ultrasound examination of the larynx, the difference between right and left sides was apparent,with marked muscle atrophy of the lateral cricoarytenoid muscle and abnormally elongated left thyroid blade covering the misshapen,underdeveloped left muscular process of the arytenoid cartilage

FIGURE (3) The Sussex Equine Hospital team regularly performs standing tie back surgery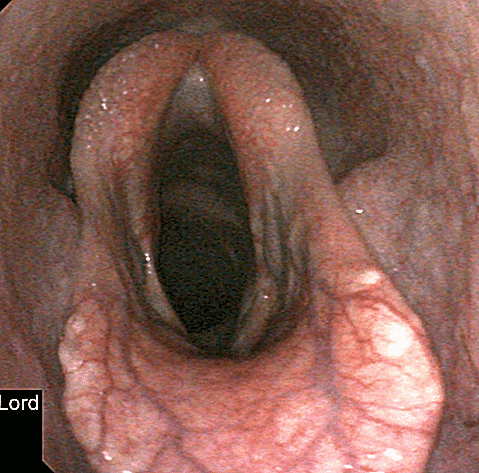 Five months after surgery, the horse had returned to ridden activity with a much-improved exercise capacity and no noise production. Repeat overground endoscopy was performed at the time and revealed the larynx was stable in an open or abducted position (Figure 4). The owner was very satisfied with the result.
Tie back has been the treatment of choice for many roaring horses for decades. This surgery fixes the larynx of the horse in an open state improving the airflow. Although this is an appropriate treatment for many horses, laryngeal reinnervation or nerve grafting is a superior treatment. This technique involves transposition of healthy nerves (most commonly first and second cervical and/or spinal accessory nerves) that are implanted into the dorsal cricoarytenoid muscle responsible for opening the airway. After reinnervation this affected muscle can regain its functionality with roaring horses having a good chance to recover their ability to open the airway.
Fabrice Rossignol from Equine Clinique Grosbois (France) is a world-leading equine surgeon who was fundamental in the development of the laryngeal reinnervation technique. "The Sussex Equine Hospital is privileged to work closely with Fabrice Rossignol, who has helped us develop and offer top-quality service including these advanced procedures." Fabrice has visited the hospital several times and in collaboration with him eight laryngeal reinnervations have been performed in the last year. All of these but one were performed on the standing horse. The recovery of those horses has been excellent, and they have all gone back to or carried on with their training and athletic career (Figure 5).
FIGURE (5A) A comparison of the preoperative (A) and 8-month post-operative (B) endoscopic images of the larynx of a 5-year-old horse suffering from left-sided recurrent nerve paralysis highlights the excellent degree of abduction on the repeat endoscopy, showing the regained muscle functionality of the larynx in this horse

FIGURE (5B) A comparison of the preoperative (A) and 8-month post-operative (B) endoscopic images of the larynx of a 5-year-old horse suffering from left-sided recurrent nerve paralysis highlights the excellent degree of abduction on the repeat endoscopy, showing the regained muscle functionality of the larynx in this horse
Conclusion
As you can see from the above featured case histories, standing surgery and new procedures are now taking over from the conventional tie back under general anaesthesia. The nerve graft procedure is now becoming a preferred procedure for many sport horses and selected racehorses.
How does Luis see his future? He loves what he does and where he now works and has moved to Chichester with his wife, Eva Rioja, who is a board specialist in veterinary anaesthesia and works in a practice based in Havant in Hampshire. Both Eva and Luis look after their two children, aged five and three. It works out well for them both. "I really enjoy the equine hospital; we make a great team and help each other. The directors are very supportive too," added Luis.
Rob van Pelt, MRCVS, a senior partner in the practice said, "Avoiding the need for general anaesthetic is a good thing for the safety of both the horse and the personnel involved. With advances in veterinary surgery and the use of local anaesthetics we are doing more surgery standing. Sometimes it is better as the anatomy is in a more natural position. With some procedures this means that there are less complications."