'Tis the season to be eating
Ensuring owners keep their pets on weight loss diets over Christmas can prove challenging, but the festive season may also present some opportunities to discuss good habits
For many, the festive season is full of opportunities for overindulgence – for ourselves and for our pets. Popular culture dictates that we should celebrate all occasions with food, but this becomes especially problematic at Christmas when the festive period can last more than four weeks, and so can the 'feeding' mentality. 
Pets have become such an integral part of family life and together with the anthropomorphic tendencies of many pet owners, this means that often they are overindulged too. With approximately half of all pet dogs and cats in the UK thought to be overweight or obese, it is an issue that cannot be ignored. Sadly, only a small proportion of these overweight or obese pets will currently be under a veterinary-led weight management programme and, even for those that are, success is hard to achieve with high drop-out and rebound rates. Maintaining owner compliance can be a real struggle. 
Poor compliance at Christmas 
We know that achieving long-term weight loss is hard; it requires daily effort and a continued resolve to resist the temptation to return to old habits. At Christmas, clients are surrounded by products specifically designed to be tempting, with cat Christmas stockings and dog wine and chocolate being widely available.
Unsurprisingly, owners report a slippery slope effect, when a few extra treats lead to more treats being given in the future and possibly even the total abandonment of any dietary controls. In a recent study in obese dogs on weight management plans, the rate of weight loss slowed significantly over the Christmas period, and this coincided with an increase in the amount of additional food (e.g. treats and table scraps) consumed (King, 2017). There may be many contributory factors, including: 
Lack of time 
Visiting relatives 
Additional stress within the home 
Extra opportunities to steal food 
Increased amounts of leftover food 
Feelings of guilt from reduced attention given 
Some owners accept and even perpetuate the impression that December is a time for overindulgence and so have no expectation of weight loss during this time, but can their pets take such a risk?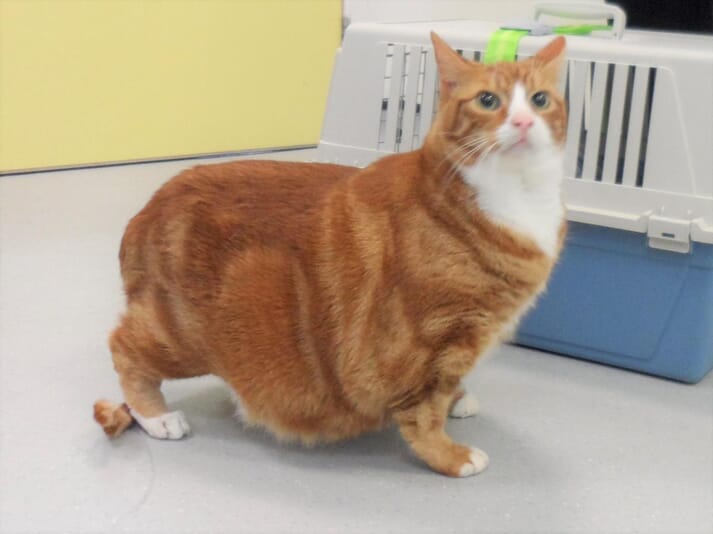 As obesity figures continue to rise, more worrying still is the apparent increase in the number of pets that have what we call 'extreme' obesity (Figure 1). While the nine-point body condition score (as recommended by WSAVA) is considered the best measure available for assessing body fat mass in general practice, it is now common to see pets whose body shape far exceeds the descriptors given for the maximum score of 9/9 (Figure 2). 
A score of 9/9 is said to represent 40% above optimal body weight, but it is likely that many are at least 60% above their optimal weight (Figure 3). 
For these pets, obesity is a serious life-limiting disease, significantly increasing the risk of other conditions, and will be dramatically reducing their quality of life. Can they afford to remain the same weight or even gain more over an entire month? 
Studies have shown that even small amounts of weight loss can make a big difference to quality of life, with clinical improvements seen after just 6% of weight loss, a target that can be achieved within one to two months (Marshall, 2010; German, 2012). It is, therefore, important to educate pet owners that the benefits of continued weight loss will far exceed the momentary pleasure of giving something extra to their pet at Christmas.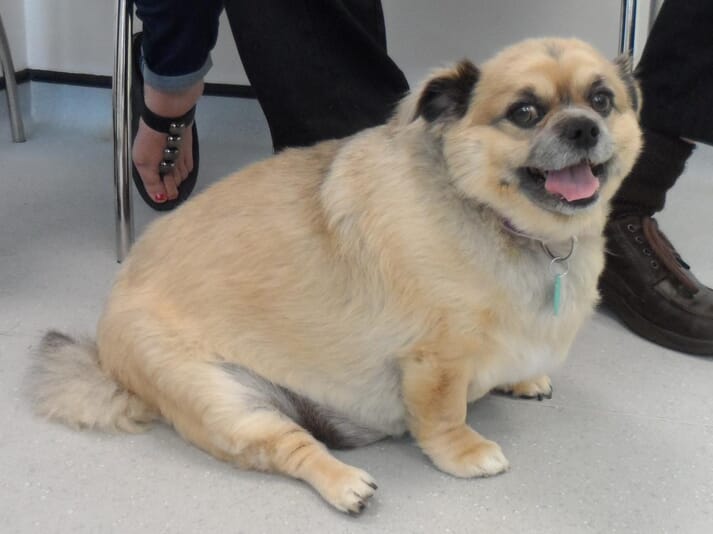 How to maintain good compliance 
During any weight loss programme, compromise is vital for long-term success. A programme that is too rigid or unrealistic for the owner is likely to fail. We should therefore accept the inevitability that pets are going to get something extra on Christmas day. 
However, this doesn't prevent us from helping these pets to achieve their weight loss goals. Prior planning for Christmas Day can be very useful. 
If they insist on feeding a 'Christmas dinner' and you feel that this ritual is important to the human-animal bond, helping the client to choose foods (e.g. a small amount of lean meat and vegetables) and calculating a reduced portion of food based on daily caloric intake will help keep good control. This might even be a good opportunity for you to help the family realise the caloric content of human foods, and educate on the impact that the odd 'slip-up' or giving in to begging behaviour can mean for the pet. 
Ensure clients understand that exceptions to the rule are only for Christmas Day and must not be extended for the whole 'Christmas week'.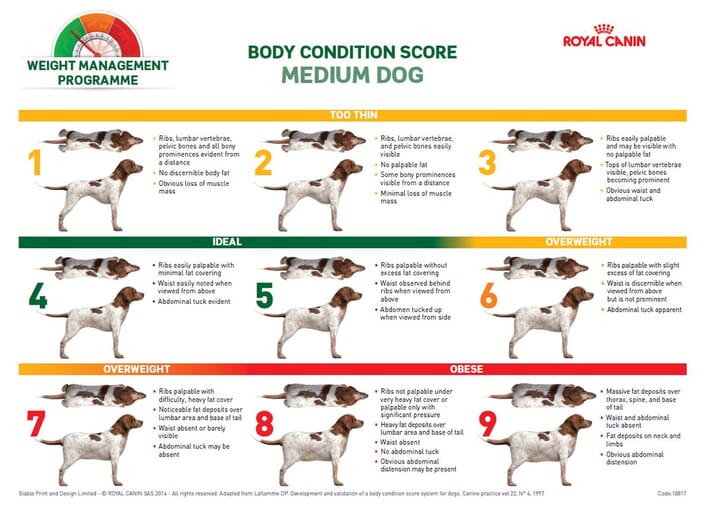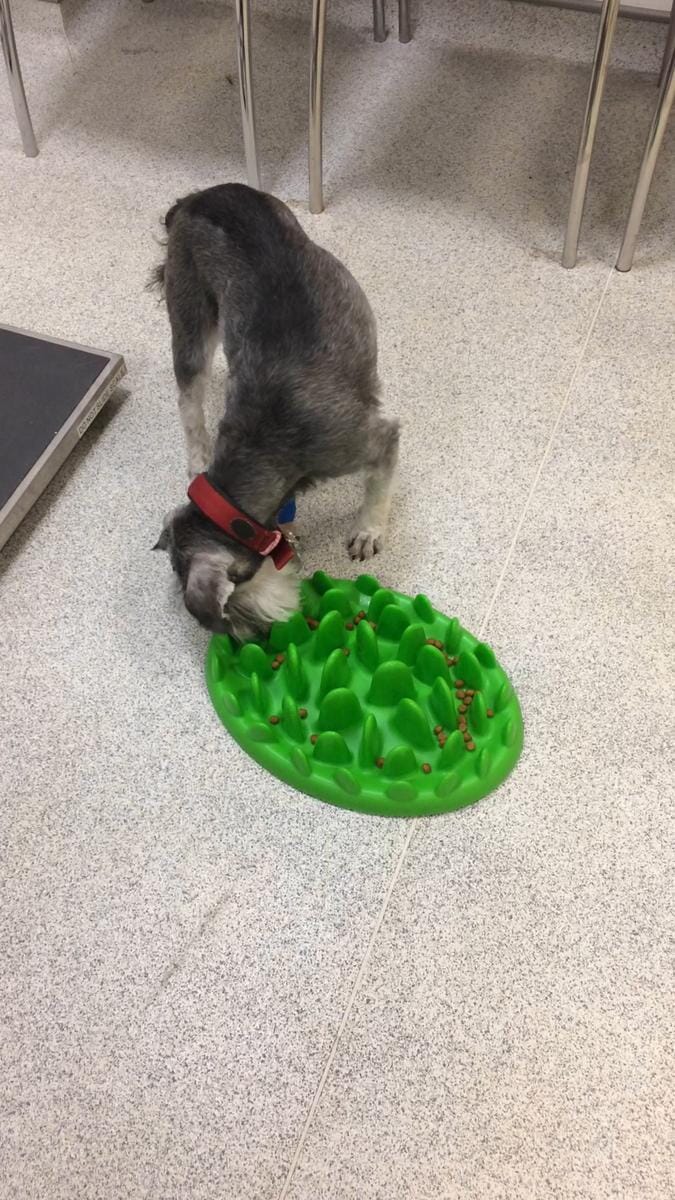 Luckily, Christmas can present some great opportunities to actively assist with weight loss. Owners can indulge their pets in other ways, gifting a new slow feeder bowl or interactive feeding toys that will keep the pet entertained and occupied, for example (Figure 4). The distraction and longer ingestion time helps prevent begging and allows the pet to feel more satisfied with its allocation of food. Additionally, they increase general activity at a time when levels may have fallen. Owners may like to reserve a larger portion of the daily food allowance, so it can be used in these toys over Christmas. 
Continued weight loss will not be achieved by every pet, so it is important to let owners know that whatever has happened over the festive period, you will be pleased to help them again in January.
Christmas is a difficult time of year when managing pet obesity, but with sufficient planning we can show owners that there is an opportunity to celebrate the festive season with their pet without compromising weight loss. 
Good festive habits 
Plan indulgence and limit it to Christmas Day 
Introduce interactive feeding toys or slow feeder bowls 
Adjust the portioning of food so it can be used in play 
Be mindful of all the extra opportunities to steal food 
Ensure your owners don't run out of pet food while the practice is shut, particularly when feeding a clinical diet