Distance
learning
Using mentoring to increase the reach of welfare efforts
International animal welfare charity Brooke reaches a huge number of working equids every year thanks to its mentoring framework
In May 2018, the Sussex Equine Hospital opened its doors to the public for the first time at its new purpose-built equine hospital at Ashington in West Sussex (read about the opening in the June 2018 issue of Veterinary Practice magazine). One of the highlights of the day was the opportunity to meet members from Brooke international animal welfare charity, which was founded by Dorothy Brooke in 1934.
The charity works closely with the equine hospital and has a mission to improve the lives of working horses, donkeys and mules all over the world. Brooke is there to protect and improve the lives of working equids along with the families who depend on them around the globe. With over 100 million working animals, the team provides invaluable support to daily life for an estimated 600 million people (8 percent of the world's population).
Making sure that their horses, donkeys and mules are healthy helps owners put food on their tables and support their children through education. A lot of the work takes place in Africa, Asia, Latin America and the Middle East, and involves specific work with several groups, including the animals, owners, women, health services and government. The team also carries out research to inform its work.
Of course, there are many excellent charities involved in the same field of work, but what makes Brooke different is the integration of an "animal health mentoring framework".
The mentoring framework
The animal health mentoring framework is a list of essential skills and competencies required to provide good quality animal health services. It is used by specially trained vets to assess and improve the individual skill and competency levels of animal health providers. This includes anyone who provides animal healthcare, including veterinarians, other veterinary professionals and community-based animal health workers.
The Brooke veterinary competence framework encourages each animal health provider to be:
An advocate of animal welfare
An effective communicator
An excellent clinical practitioner
Able to demonstrate good clinical governance
Dinesh Kumar Gupta was trained using this framework and has worked as a Veterinary Officer for Brooke India for two years. "We often attend equine fairs and events where we have a stand, so owners and traders can bring their equines if they are suffering from wounds or diseases. We can then take blood and faeces samples and test them to diagnose cases within minutes and prescribe medicine and treatment."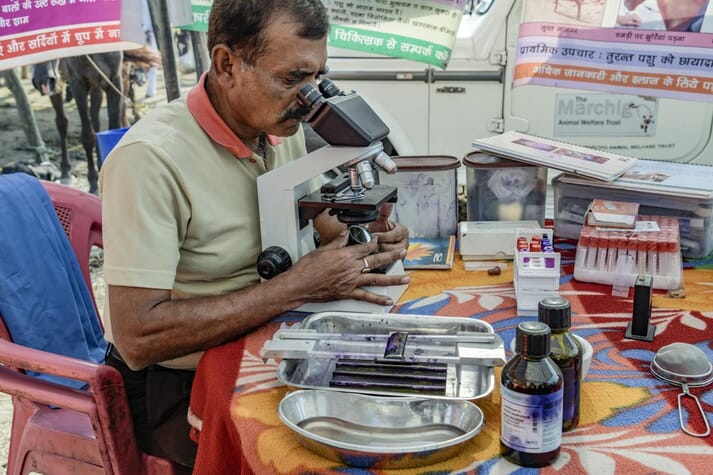 How animal health professionals impact welfare
In 2016, Brooke stopped providing free medicines to try to create more sustainable, improved equine welfare. This decision was made because owners would often wait to get free treatment by members of the Brooke team rather than getting help sooner; it was not good for their animals, some of which would be left suffering for days. Now it is in their interest to source medicines immediately to help their equines.
One of the most important tests the team carries out is for glanders: a highly contagious and fatal disease that causes coughing, fever and nasal discharge. If a case is detected, the team will ensure that the animal is quarantined immediately.
As a result of this, Brooke has been working with local governments to build a compensation scheme for owners. The scheme has been very beneficial in encouraging them to come forward. Before the scheme, owners would often refuse to come forward for fear that their animal would have to be euthanised, resulting in lost income. The support Brooke has given owners through the compensation application process has already started to show a positive impact in equine welfare.
The work of Brooke was endorsed by Animal Health Practitioner Mohammad Rizvan, who is 19 years old. He was approached by Brooke and offered training on equine welfare. "Now I have training I can identify cases of colic, tetanus, surra and glanders. I can take the temperature of an equine if it has a fever, I can tell the age using the horse's teeth and am able to check the third eyelid for signs of disease. I never knew these things before."
Brooke vets have given Mohammad a lot of training and he now feels comfortable working with equines. "Recently, I arrived in a village where a horse was showing signs of colic due to severe abdominal pain. He had acute diarrhoea and was severely dehydrated. Having told the owner how grave the situation was, I fetched water to hydrate him and put in an IV drip. The horse made a full recovery and the owner told all of the villagers – and now I am made welcome all the time."
Mentoring takes place in the field, where animal health providers are seeing cases in their day-to-day practice. It is a student-led initiative, focusing on building practical skills and encouraging reflection, constructive feedback and positive practices.
The figures show it all; in 2017 and 2018, the number of working horses, donkeys and mules reached by Brooke was an astonishing 1,263,637. Their total income was £21.4 million and for every £1 they received, 91p was spent on charitable activities.
Brooke is just that little bit different in the way it operates by "putting the welfare of the animal first" and educating those in the field with expert veterinary knowledge. I can see why the Sussex Equine Hospital had them as their chosen charity for its open day and getting to know the team has given me a new insight into the excellent work they do at Brooke.
The Brooke team provides care for equids and gives advice to their owners

© Atul Loke

n India, Brooke provides farrier training to local people

© Atul Loke

Brooke's work extends all over the world, including to animals in Kisima, Kenya

© Freya Dowson

Working animals are also cared for in Pakistan

© Freya Dowson