VetsNorth conference set to shine in 2019
The endocrine system, emergency medicine and surgery and emergency and critical care nursing are this years' main themes for VetsNorth.
VetsNorth 2019 will focus on key issues from across the veterinary profession with three lecture streams providing a total of 27 hours of cutting-edge CPD. Delegates can attend lectures on small animal medicine, small animal surgery and veterinary nursing. Veterinary Practice Magazine readers benefit from a 15 percent discount if they use the code VPMAG15 when registering for the conference.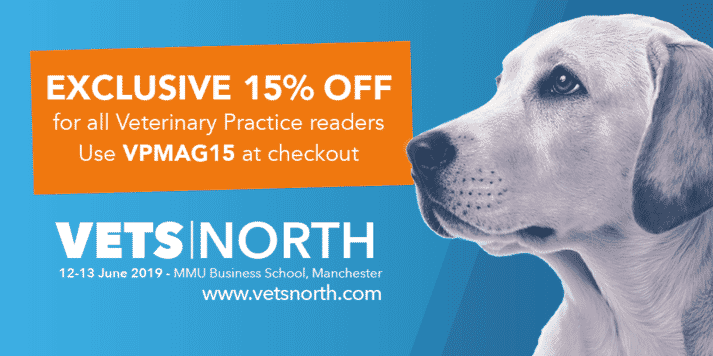 Delegates focusing on small animal medicine can attend lectures delivered by leading specialists in the area – including Ed Hall and Mike Herrtage. Surgical lectures will focus on best practices for treating endocrine cases and other topics. The nursing stream will discuss triaging and assessing emergency patients. Georgie Hollis from the Vet Wound Library will share tips for effective bandaging. There will also be lectures on the welfare issues of brachycephalic breeds and strategies for managing conflict in practice.
There will be an interactive panel discussion on 12 June featuring BVNA President Wendy Nevins, David Williams from Cambridge University and Susan Paterson. The panel will discuss "hot topics facing the veterinary industry today" and will address delegate questions about the profession.
VetsNorth 2019 will feature a host of local, national and global companies showcasing the latest products and innovations from the veterinary industry. The exhibition will feature companies such as iM3, FCL Veterinary, VBS lasers and MSD Animal Health. It will provide numerous opportunities for delegates to engage will key decision makers in a relaxed environment.
VetsNorth 2019 will take place on 12-13 June at the MMU Business School in Manchester. The conference offers vets and vet nurses high-quality and cost-effective CPD. Veterinary Practice Magazine readers can use a 15 percent discount when purchasing tickets with the code VPMAG15. More information can be found here, and tickets can be purchased here.