Practices seeing some return to normal revenues
Latest stats show some signs of encouragement for the profession but it remains early days in any return to (the new) normal
Specialist veterinary accountants and practice consultants, Moore Scarrott, have been running a national practice turnover monitor throughout the COVID-19 lockdown period. It is believed to be the largest veterinary turnover monitor in the UK.
The latest stats show some signs of encouragement for the profession but it remains early days in any return to (the new) normal.
The firm has been monitoring the impact of COVID-19 on turnover, initially on a weekly basis, to help provide information and support to all of their 350 or more veterinary practice clients. Steve Headon, one of the lead veterinary partners, commented "Historically we have monitored the figures quarterly but very early on in the crisis it was clear we needed more real time data, hence the move to weekly monitoring".
As the country has started to emerge from lockdown, the monitoring has switched to a monthly basis and the firm intends to continue with this for the foreseeable future, given the powerful data it generates for their clients.
The results highlight the major differences between the impact on the species work types. Further, within each sector, there are significant variations in the results, showing that the action taken by practice owners can and does have an impact on what can be achieved.

At a headline level, the figures as at June 2020 are: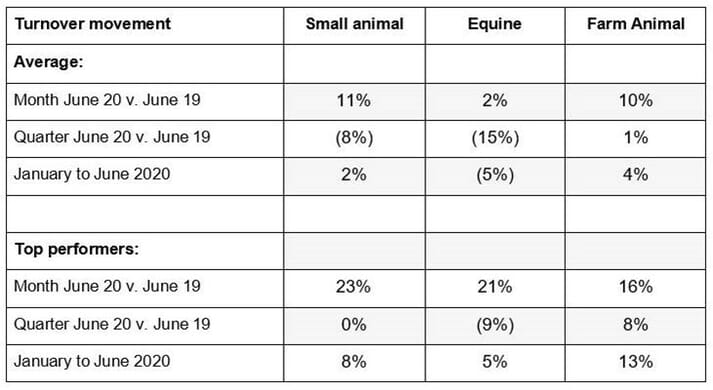 Steve went on to add "we have spent a huge amount of time working with a lot of dynamic practices to help them manage their way through COVID-19. There has been so much misinformation out there as to what is or is not permissible. With care, acceptance of changed working practices and a positive attitude, we have seen a number of our clients weather the storm very well. What has been very apparent is how the composition of turnover has changed over the past few months and practices have had to consider what impact that has on the profitability of the headline turnover they are generating"
Any veterinary practice in the UK is welcome to participate in the ongoing turnover monitoring program free of charge. For those partaking, more detailed results are provided.